To find out what I'm currently reading, or to have a book discussion on something I have read, OR to give a good book recommendation OR anything book related at all follow me on
Instagram (Carrie4ya) and use #carriesreads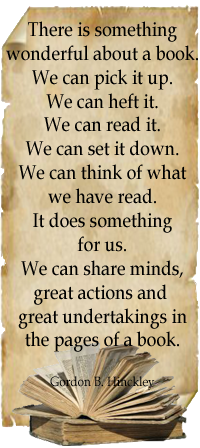 Books I've Read Since 9/5/2010
1. The Hunger Games by Suzanne Collins
2. Catching Fire by Suzanne Collins
3. Mockingjay by Suzanne Collins
4. The Child Called "It" by Dave Pelzer
5. East of Eden by John Steinbeck
6. Fablehaven Book 1 by Brandon Mull
7. Fablehaven: The Rise of the Evening Star by Brandon Mull
8. The Diaries of Adam and Eve and Other Stories by Mark Twain
9. Fablehaven: Grip of the Shadow Plague by Brandon Mull
10. Permission to Nap by Jill Murphy Long
11. Fablehaven: Secrets of the Dragon Sanctuary by Brandon Mull
12. This Is Not Chick Lit
13. Me Talk Pretty One Day by David Sedaris
14. The Autobiography of Santa Clause by Jeff Guinn
15. Fire of the Covenant by Gerald L. Lund
16. Uh-Oh by Robert Fulghum
17. The Lost Boy by Dave Pelzer
18. What Our Mother's Didn't Tell Us by
Denielle Crittenden
19. I Know This Much is True by Wally Lamb
20.
Eat, Pray, Love by Elizabeth Gilbert
21. Divine Secrets of the Ya-Ya Sisterhood by Rebecca Wells
22. The Man Named Dave by Dave Pelzer
23. The Book Thief by Markus Zusak
24. Jane Eyre by Charlotte Bronte
25. House and Philosophy: Everybody Lies edited by William Irwin and Henry Jacoby
26. The Help by Kathryn Stockett
27. The Art of Racing in the Rain by Garth Stein
28. Zen and the Art of Motorcycle Maintenance by Robert Pirsig
29. What to Expect When You're Expecting
Books I've Read Since 9/5/2011
1. I Don't Know How She Does It by Allison Pearson
.2. House Rules by Jodi Picoult
3. Inside of a Dog by Alexandra Horowitz
4. Thirteen Reasons Why by Jay Asher
5. Bossypants by Tina Fey
6. The Time Travelers Wife by Audrey Niffenegger
7. The Husband Project by Kathi Lipp
8. A Thousand Splendid Suns by Khaled Hosseini
9. Sing You Home by Jodi Picoult
10. Bringing Up Bebe by Pamela Druckerman
11. Heaven is Here by Stephanie Nielson
12. Anne of Green Gables by Lucy Maude Montgomery
13. Home to Woefield by Susan Juby
14. Heaven is for Real by Todd Burpo and Lynette Vincent
15. The Sister: A Novel of Emily Dickinson by Paola Kaufmann
16. Marley and Me by John Gorgan
17. The Secret Life of Bees by Sue Monk Kidd
18. Confessions of a Shopaholic by Sophie Kinsella
19. The Happiness Project by Gretchen Rubin
20. Shopaholic Takes Manhattan by Sophie Kinsella
21. Nanny Returns by Emma McLaughlin
22. Love and Logic Magic for Early Childhood/Practical Parenting from Birth to 6 Years by Jim Fay & Charles Fay, Ph.D.
23. Shattered Silence by Melissa Moore and Margaret Daley
24. Spin by Catherine Mackenzie
Books I've Read Since 9/5/2012
1. The Survivors Club: The Secrets and Science That Could Save Your Life by Ben Sherwood
2. The Immortal Life of Henrietta Lacks by Rebecca Skloot
3. The Devil in the White City: Murder, Magic and Madness at the Fair That Changed America by Erik Larson
4. Room by Emma Donoghue
5. We Need to Talk About Kevin by Lionel Shriver
6. Is Everyone Hanging Out Without Me? (And Other Concerns) by Mindy Kaling
7. Lost at Sea by Jon Ronson
8. Snow Falling on Cedars by David Guterson
9.Them: Adventures With Extremists by Jon Ronson
10. Feed by M.T. Anderson
11. World War Z by Max Brooks
12. The Storyteller by Jodi Picoult
13. In Cold Blood by Truman Capote
14. Peter and Wendy by J.M. Barry
15. Black Beauty by Anna Seawell
Books I've read since 9/5/2013
1. The Fault in Our Stars by John Green
2. Reconstructing Amelia by Kimberly McCreight
3. The Cuckoo's Calling by Robert Galbraith
4. The Child Whisperer by Carol Tuttle
5. Serena by Ron Rash
6. Dressing Your Truth, Discover Your Type of Beauty by Carol Tuttle
7. The Eternal Journey
Books I Highly Recommend
The Book of Mormon: Another Testament of Jesus Christ (Read it online for free!)
Peter and Wendy by Sir J.M. Barrie
All I Really Need to Know I Learned in Kindergarten by Robert Fulghum
It Was on Fire When I Lay Down on it by Robert Fulghum
East of Eden by John Steinbeck
Of Mice and Men by John Steinbeck
Travels With Charlie by John Steinbeck
Any books by Jane Austen
The Harry Potter Series by J.K. Rowling
The Hunger Games by Suzanne Collins
A Long Way Gone by Ishmael Beah
He's Just Not That Into You by Greg Behrendt and Liz Tuccillo
Catcher in the Rye by J.D. Salinger
Nineteen Minutes by Jodi Picoult
Angus, Thongs, and Full-frontal Snogging by Louise Rennison
The Lovely Bones by Alice Seabold
The Lost Art of Listening by Michael Nichols
The Absolute True Diary of a Part-time Indian by Sherman Alexie
She's Come Undone by Wally Lamb
The Gift of Fear by Gavin De Becker
Permission to Nap by Jill Murphy Long
The Book Thief by Markus Zusak
White Oleander by Janet Fitch
The Help by Kathryn Stockett
Stiff: The Curious Lives of Human Cadavers by Mary Roach
Anne of Green Gables by Lucy Maude Montgomery
A Thousand Splendid Suns by Khaled Hosseini
The Immortal Life of Henrietta Lacks by Rebecca Skloot
World War Z by Max Brooks